Things you need to know....
Frequently asked questions
What happens when you contact Queens of Clutter?
One of our team will contact you for a chat about your requirements, and to organise a date and time for our appointment. 
What happens during your appointment?
At your appointment, we will choose the space you want to work with, remove all the items from the space, and then sort them.
The items you decide to keep will then get reorganised into the space in a way that suits your household. If you wish we will then remove the items for gifting.
You will need to be home with us, as all of the decisions on what to keep are made by you.
What does a Queens of Clutter appointment cost?
Our professional organisers are charged at an hourly rate for each organiser.
Our appointments are a minimum of three hours and have an open-ended finish time.  Usually, one organiser is enough, but if you have a big job we can book more than one at a time.
Appointments cost $80 an hour per organiser plus GST Monday to Saturday. Sunday and Public holidays have surcharges.  
For NDIS clients – we currently only have capacity for self and plan managed clients.
How many organisers come? 
Usually just one unless you require multiple team members. In this case the price is per organiser.
How long can an appointment be? 
Usually, a minimum of three hours but up to eight hours if required.
What training and experience do you have? 
Members of the Institute of Organisers, Graduates of the Hoarding Home Solutions (chronic disorganisation), Mental Health First Aid, NDIS work orientation module, Police clearances, fully vaccinated. All of our team have a natural love and talent for organising and decluttering.
What do I do before you come?
There is no need to do anything but if you want some ideas on how to start read our " Getting Started Guide". This can be downloaded from our website, Facebook and Instagram pages.
What about containers?
We endeavour to use the items you already have in your home so generally we would not purchase containers before our appointment. After decluttering the excess, if there is a need for containers we can organise them for you or you can purchase them yourself knowing exactly what you need.
I am embarrassed and worried people will judge me?
No need to be worried. This is what we do every day. It's quite common that our clients have not allowed people into their homes for some time before we are invited in.
Do you do cleaning?
We are not cleaners and do not bring cleaning materials with us. We will clean the area we are working on in your home so your belongings go back into a clean space.
Do I have to be home with you?
Yes. We don't make any decisions about what to keep or donate. That's up to you, so you need to be close by to make those decisions.
Who decides what to get rid of?  
You do. We can help by sorting categories together so you can see what you own more easily but the ultimate decision is always yours.
Can you take away what I don't need?
Yes we do, we can take away up to a car load of items for donation.
Where do my donations go?
Many places! They go anywhere we can find to make them useful. This includes Charity Shops, specific charities like Fostering Hope, school programmes, Buy Nothing pages, etc. If you would prefer to donate to a charity of your choice, that's ok too.
Is my house too cluttered for you to help me? 
No. We can accommodate all levels of clutter.
What if I don't know where to start?
That's ok. Many of our clients are really overwhelmed by their homes and face this issue. We will help you get started and support you through the whole process.
I have physical or mental health complications; can you work around this?
Absolutely. Many of our clients have challenges in some form. We are very used to finding ways to best suit your needs and organise your space to work for you and your family. We work at a pace with which you are comfortable.
I don't want photos taken. Is that ok?
Of course. Please just let us know if you are not comfortable with photos being taken. We often just take them so you can see your own progress. We will only put them on social media with your express consent and if you change your mind we will pull them down.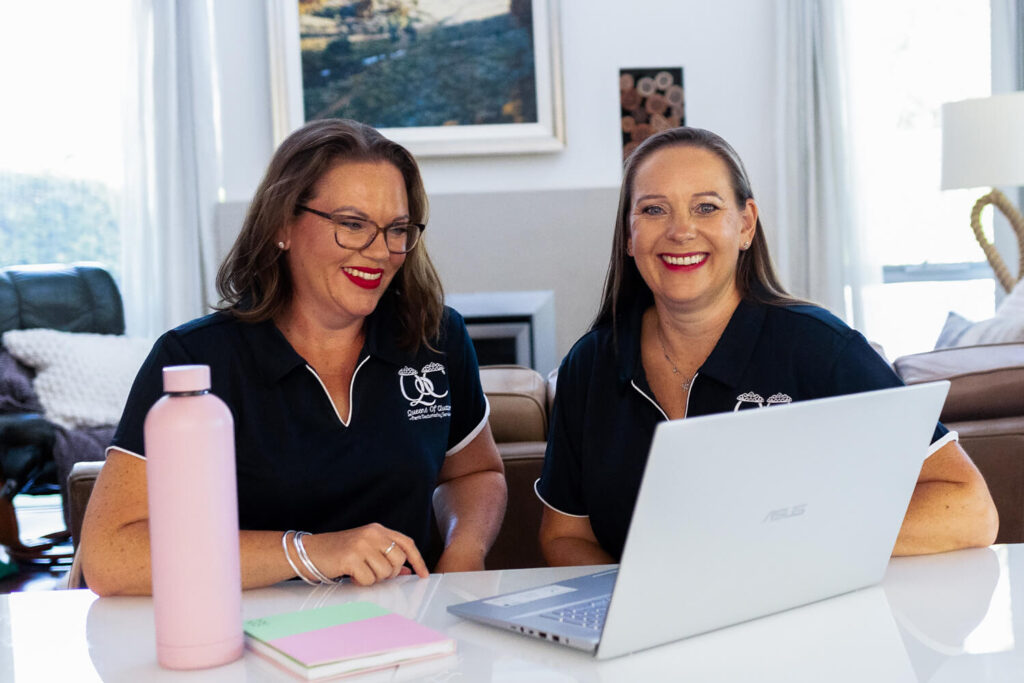 Have a question that isn't answered here?
Ready to start your decluttering?
Make a booking with us today