Queens of Clutter is a family-owned and WA-based team of professional organisers.
We specialise in helping people with excess clutter by providing expert guidance and hands-on assistance to help you get organized, decluttered, and back in control of your home.
The Queens will work with you to create a functional environment that's right for you. We will provide you with personalized solutions tailored specifically to your unique situation – whether it's just one room or an entire house!
The team can handle large or small projects, anywhere from Perth to Mandurah.  We have a Team Member nearby and, if you have a large job or a short timeframe, we can send multiple team members. 
Queens of Clutter is like a personal trainer for decluttering, organizing, and simplifying your home, and your life.
Our friendly all-women team brings a wealth of life experience and ongoing training to support you to achieve your goals.
Queens of Clutter and Konmari – how it all started
Sisters Kirrilee and Taryn discovered Marie Kondo and the Konmari method when their children were babies.
After 'sparking joy' in their own homes they started decluttering for family and friends.
They loved seeing the changes it made in people's lives.
Over the years, their passion became their business as the team expanded with other people who loved decluttering as much as they did!
Queens of Clutter Training
All of our team members: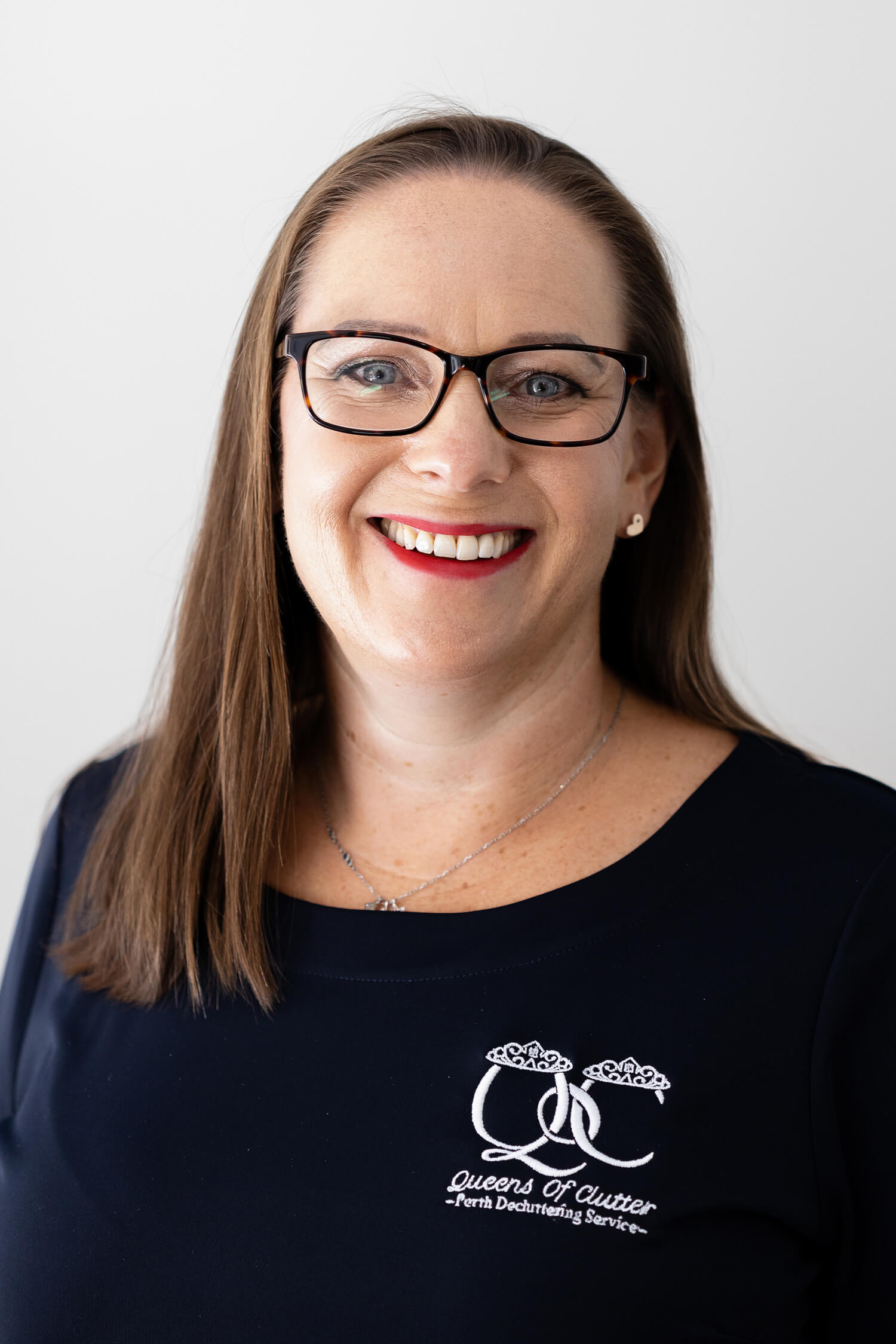 Kirrilee
Owner
Kirrilee is an owner and usually the person who handles the phone calls and enquiries and all the behind-the-scenes stuff that needs to be done for the Queens. Kirrilee spent 20 years as a community Pharmacist before discovering a passion to assist people to organise their homes. Her favourite things are her energetic 2 kids, delicious food, and the occasional glass of wine, and maybe a little bit of chocolate too. She has a very supportive husband and a very needy dog who provides tons of emotional support!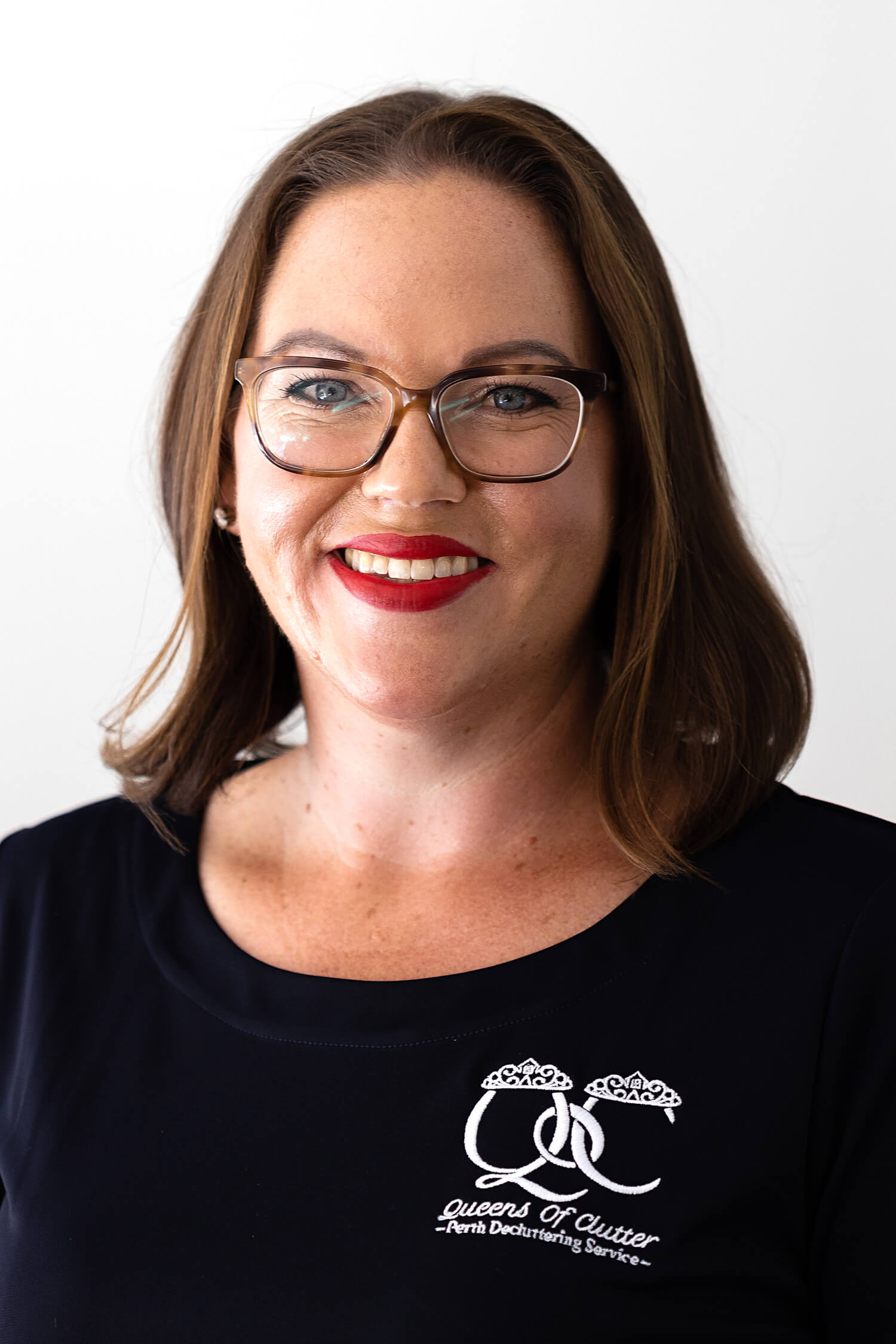 Taryn
Owner
Taryn is an owner and creates the social media for Queens of Clutter. She has a Bachelor of Psychology degree and also works as a Forensic Investigation Officer. She has 2 kids, loves netball, yoga, and hanging out with friends and family. Taryn loves working with overwhelmed clients, helping them find a place to start and seeing their confidence and excitement grow as the appointment progresses. She is excited about the future of the business and the lives they can change along the way.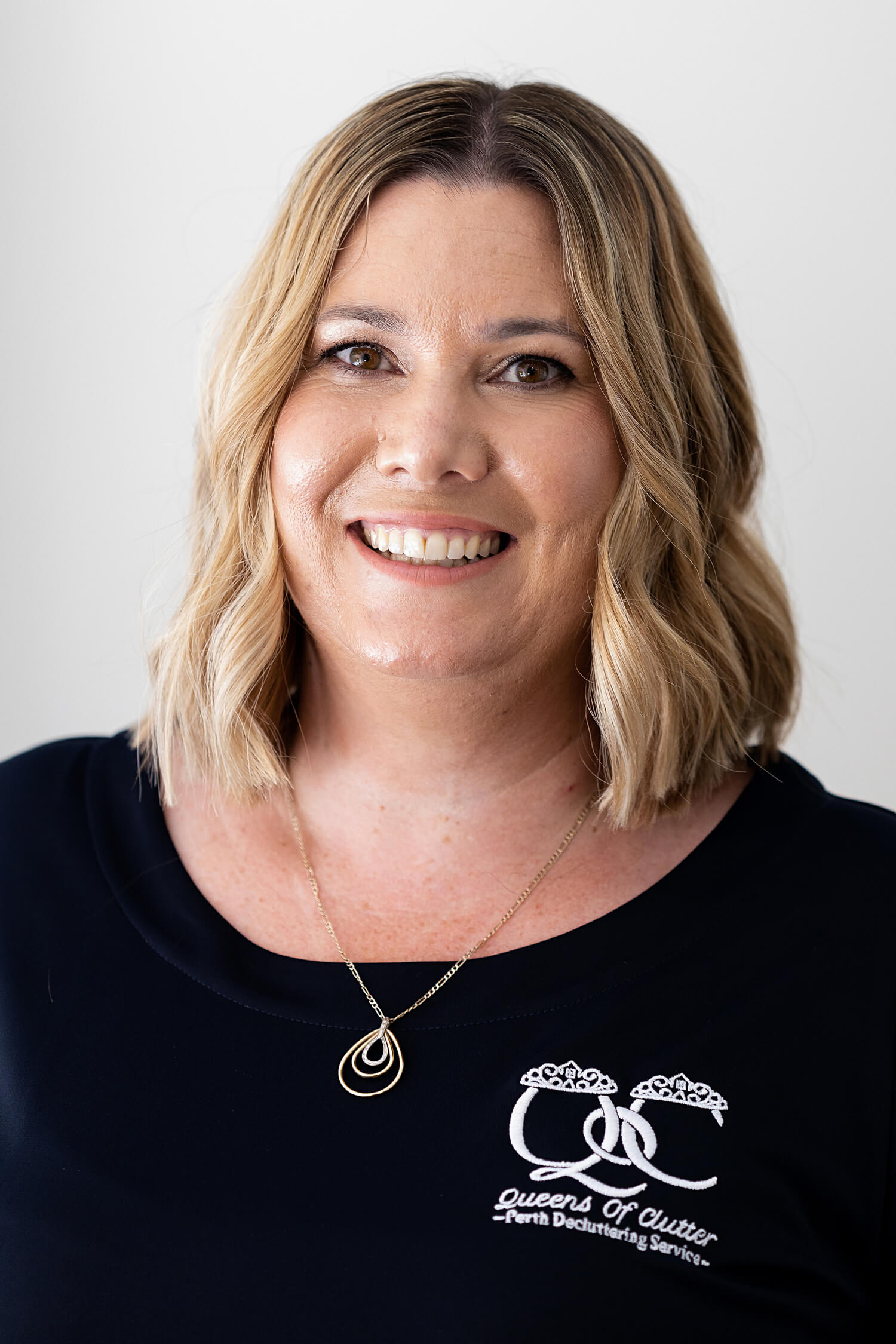 Falon
Professional Organiser
Falon is a mum of four kids. Most of her weekends are spent on the sidelines of her local community sporting clubs which she enjoys. Her favourite clients are the ones who don't know where to start. She really loves organising kitchen cupboards. To Falon, family means good food, good company and great wine. She is a sucker for a good rom-com movie! Bring on the popcorn!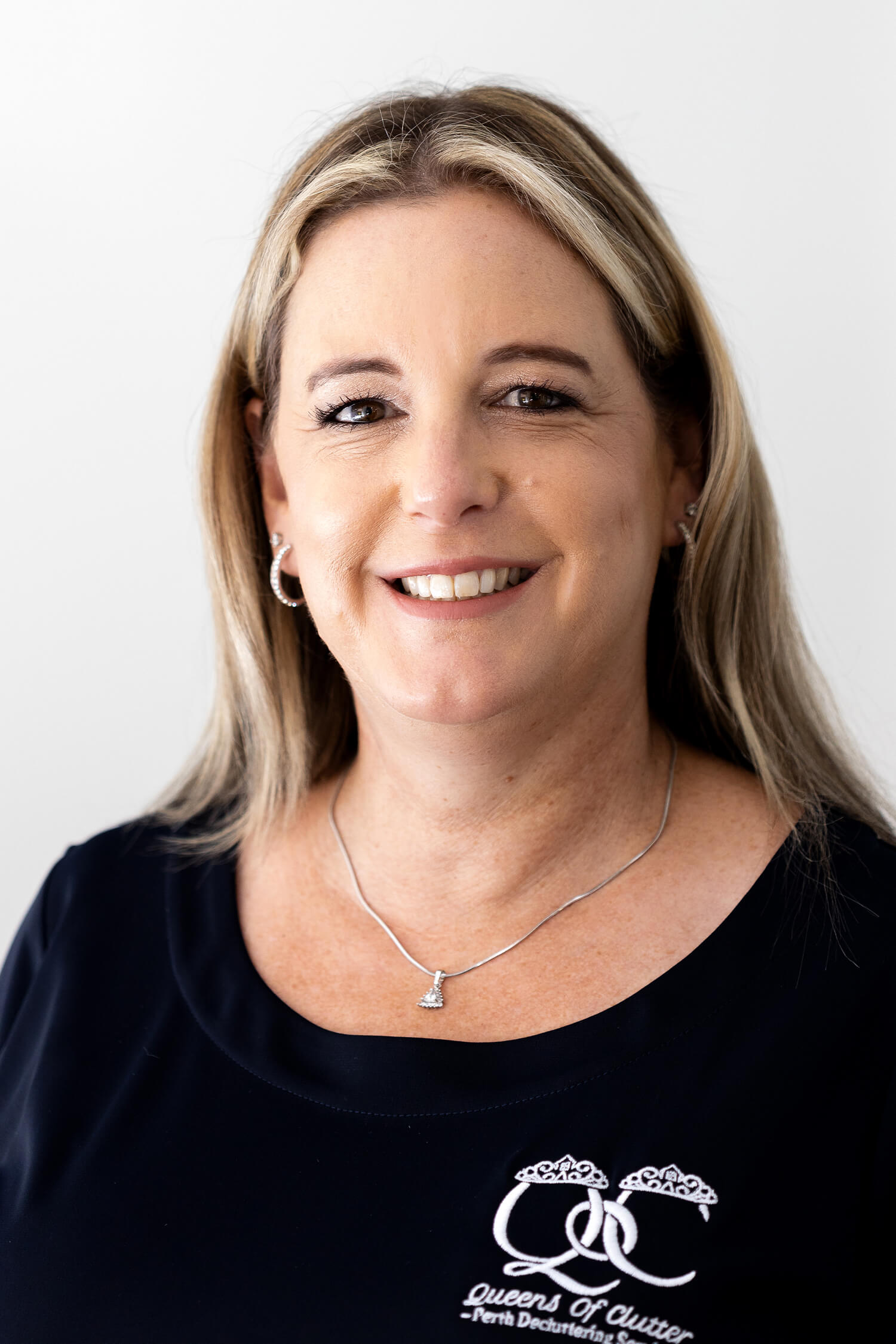 Rachel
Professional Organiser
Rachel is a mum of two adult kids. She enjoys time away relaxing with a nice wine in hand, sampling the goods of many wineries & distilleries & has just taken to camping which she is loving & hasn't done since a child. She has always been a declutterer & is forever organising her own home. Rachel jumped at the chance to ioin the team at Queens of Clutter in July 2021 & hasn't looked back. She loves the positive reactions of the people she is helping. They say you never work a day in your life if you love what you.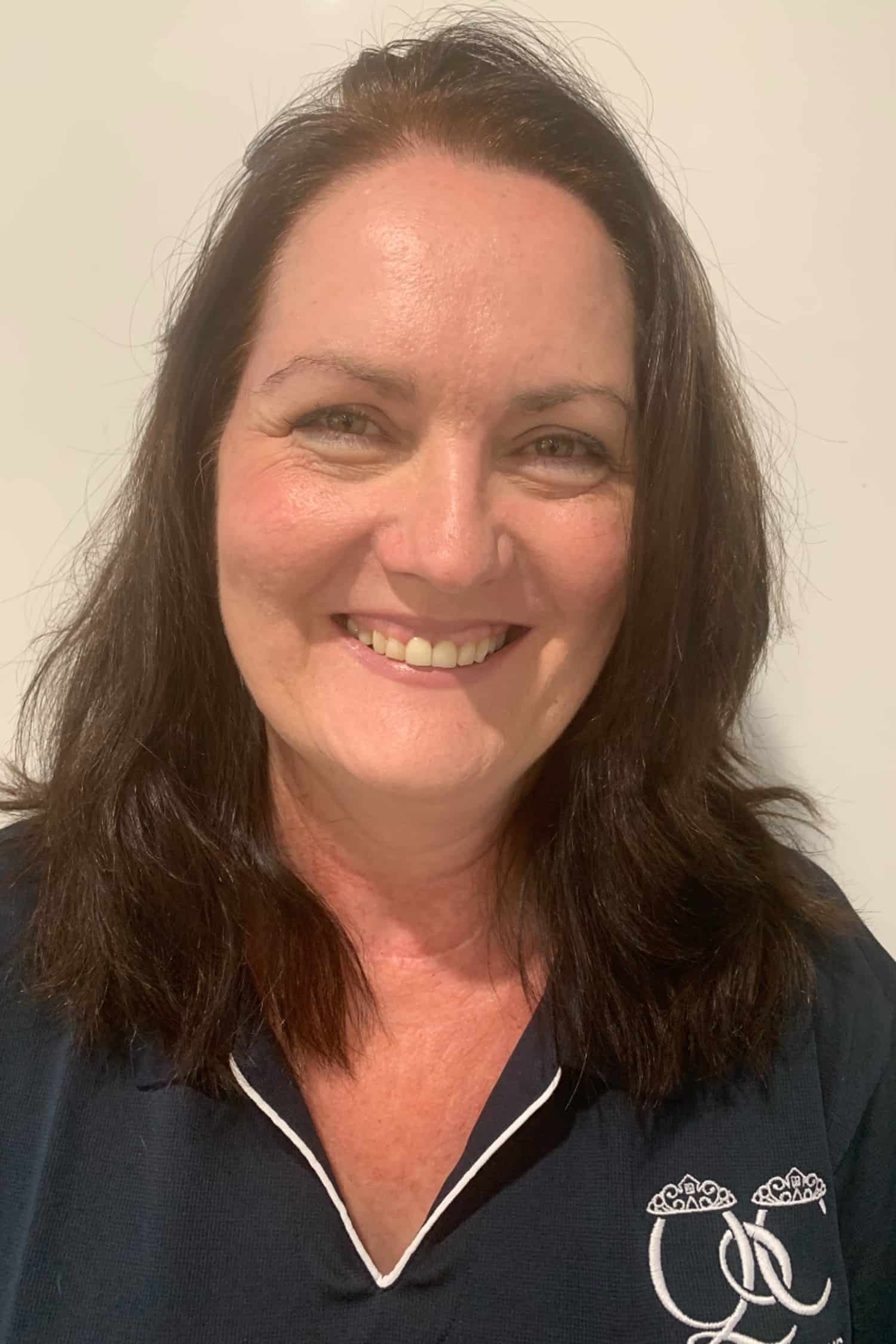 Catherine
Professional Organiser
Cath moved from the UK 17 years ago. She is a trained Occupational Therapist and worked in the health system in the UK . Since arriving in Australia she has worked in disabilities and aged care. She now lives in Perth with her partner and has two adult children and a teenage son. Cath enjoys spending time with her family and two cats, Harry and Buddey. She also loves taking her dog Rosa for walks on the beach.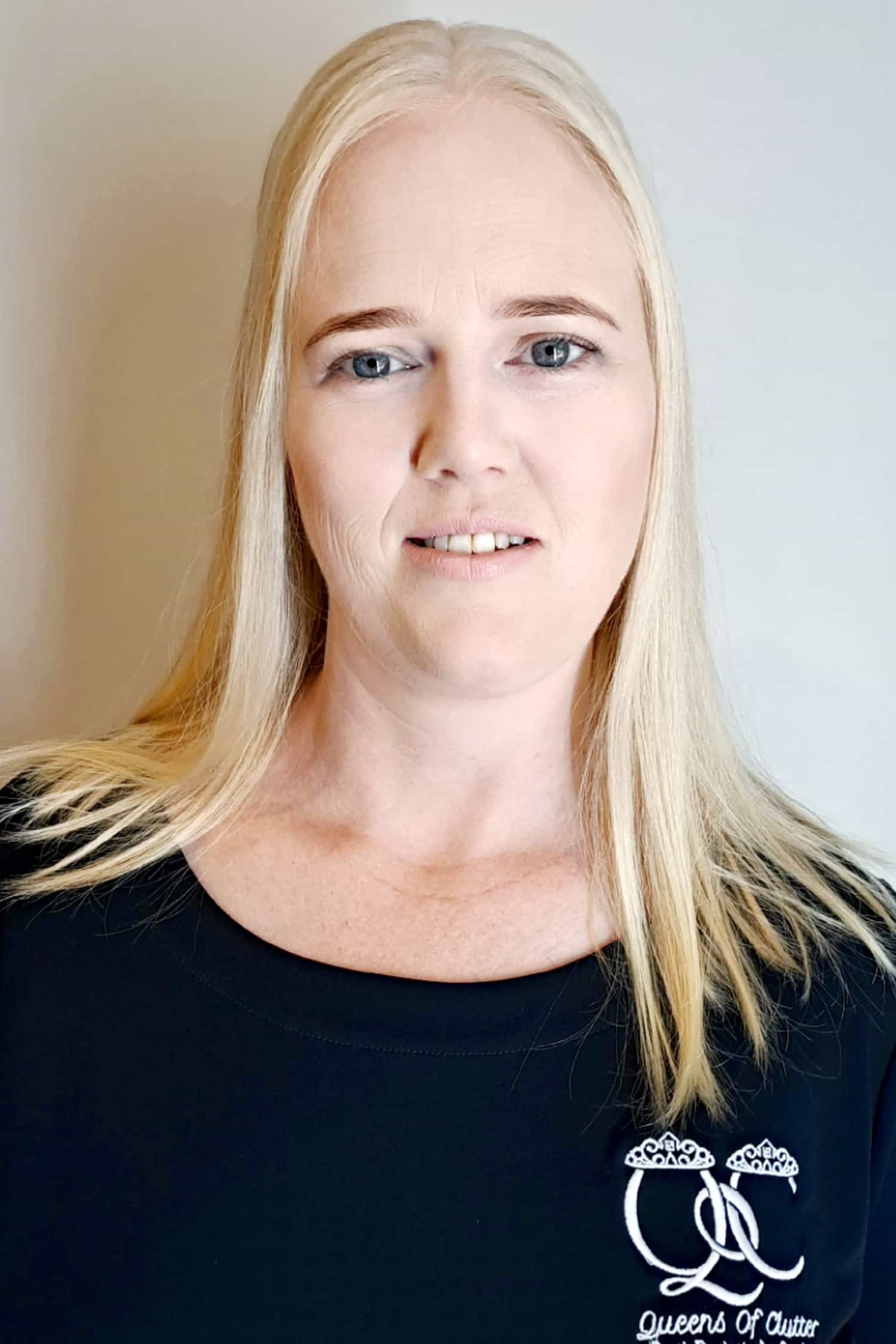 Hayley
Professional Organiser
Hayley is originally from the UK and lives with her husband, 2 teenage daughters, 2 cats and a dog. She has always loved to help people declutter and organise and decided to pursue it professionally after deciding to put herself and her happiness first as she enters her 40's. Hayley has a special interest in working with neurodiverse clients and helping improve mental health through the art of decluttering and organising. She loves working with children - putting in place practices to improve skills that they will hopefully take through to adulthood.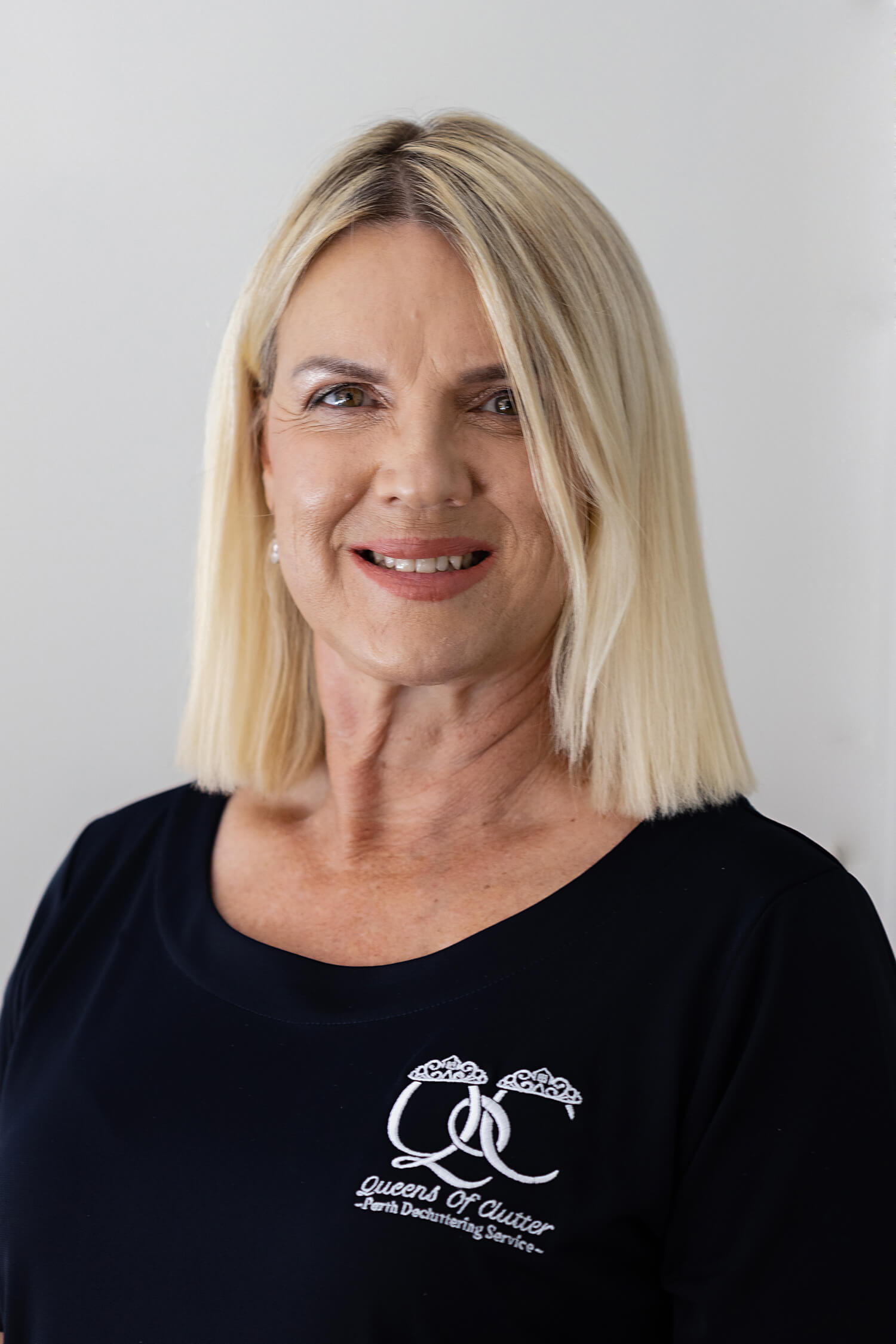 Deanie
Professional Organiser
Deanie is a Mum of two adult kids, and swapped the corporate world to cherish a few hours with clients and help them get their homes more organised. She stays fit walking her dog and swimming at the gym. She has lived all over Australia and is now back in Perth near family. She is a strong believer in allowing yourself a drawer or benchtop box to collect clutter that you can deal with every few days. She only wishes that Queens were around when her kids were little when the daily task of preparing food, washing clothes and tidying house allowed her little time to deal with clutter.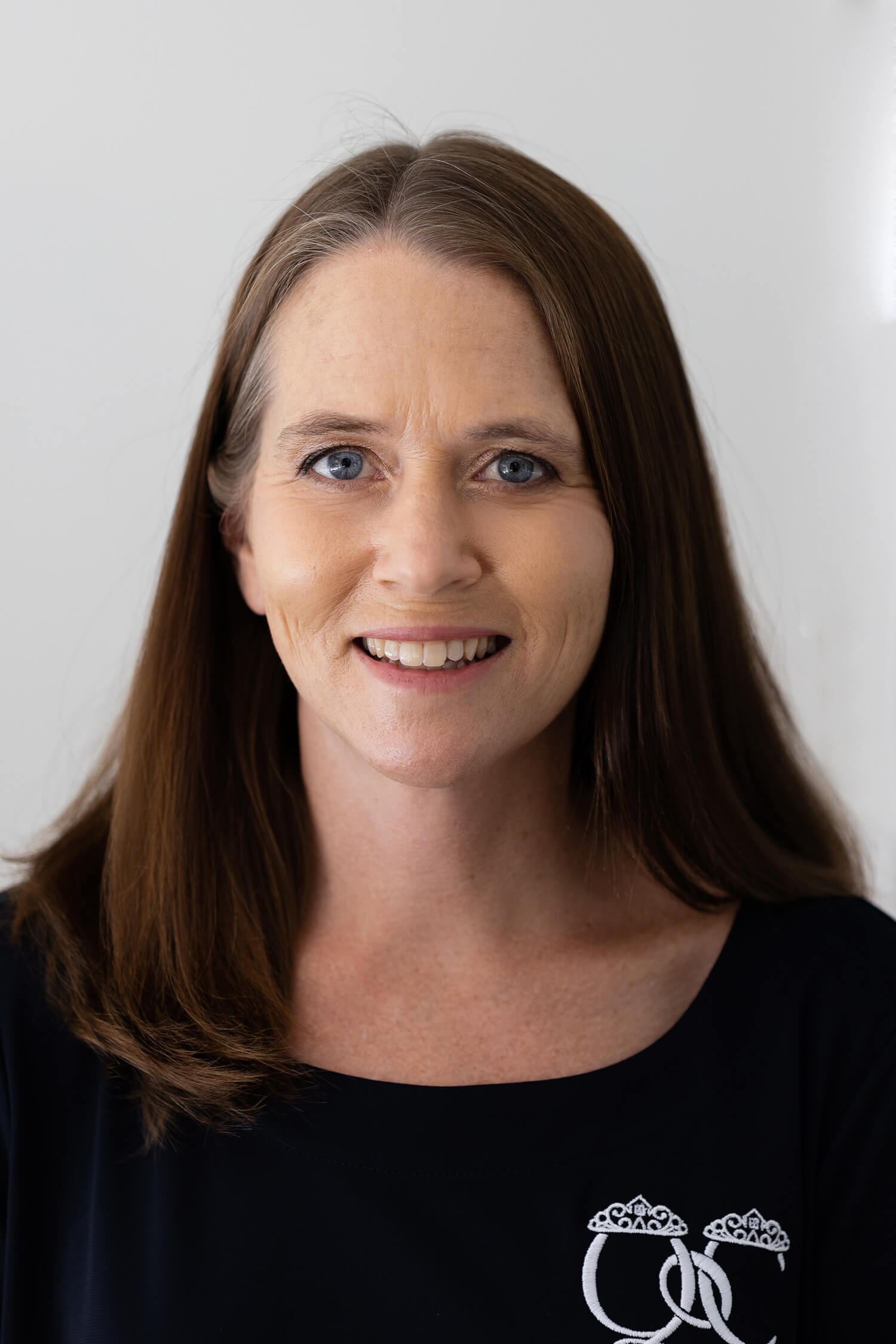 Lucy
Professional Organiser
Lucy is a primary school teacher by trade, as well as a mum to three (exhausting) children. Organisation and planning are her best friends - she always have a list or two on the go. She was born and bred in England, but spent three years living in the Middle East before she moved to Australia in 2007. Her favourite things to do include traveling and exploring new places, as well as relaxing on the beach. She also enjoys eating out and will pretty much try anything once; her most adventurous food choice so far has been a fried scorpion from a street stall in Thailand - it was revolting! She attends jobs north of the river and relishes the challenge of creating order from chaos - bring on the clutter!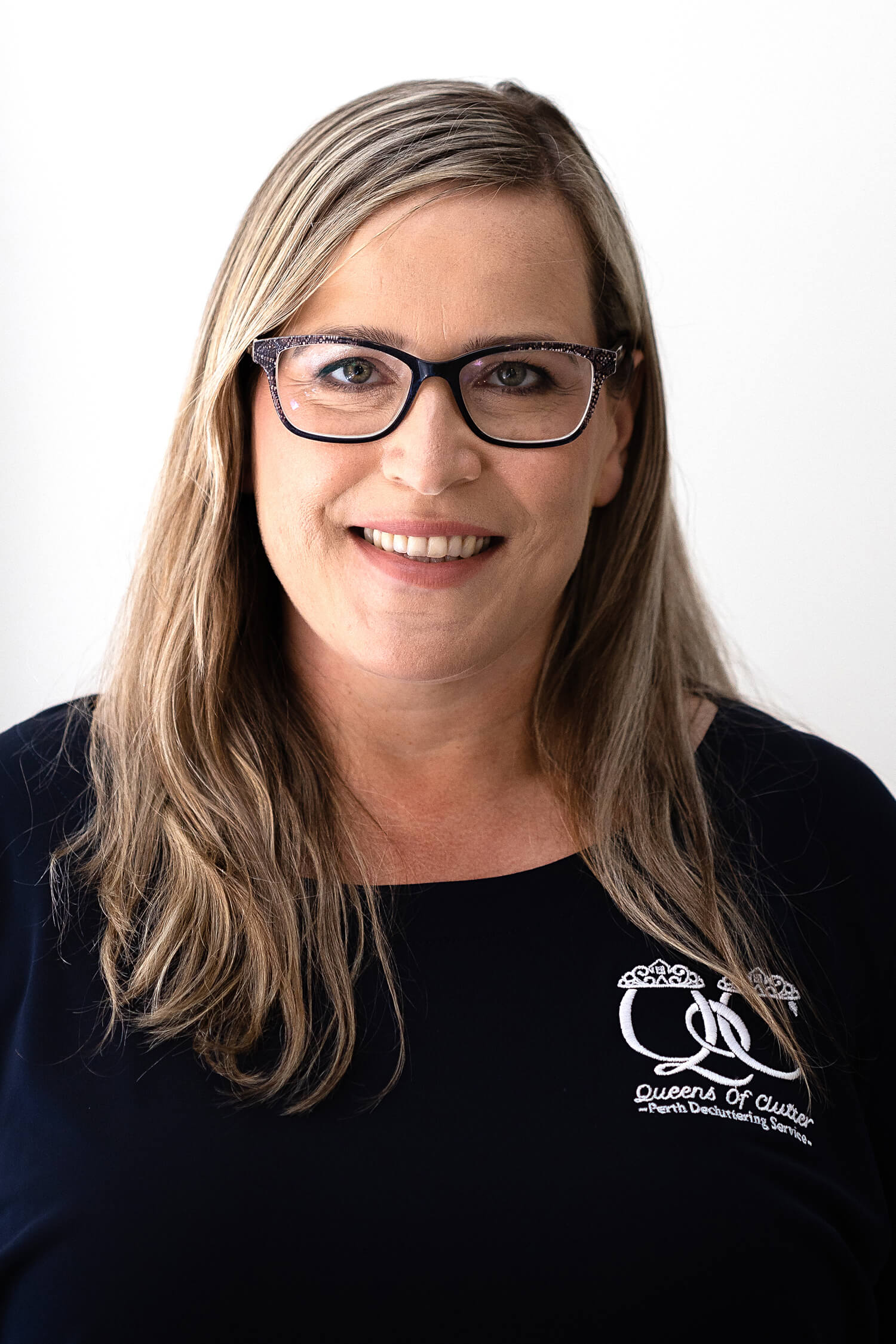 Carly
Professional Organiser
Carly, originally from Victoria, is a mum of two, and her favourite thing to do outside of work is to relax. Give her cocktails by the pool, movies, and anything pampering and she is a happy lady. She has had an interesting array of previous employment; Real Estate agent, HR professional, and Lead Singer in a band. She became interested in organising after becoming a mum and had a lot more inventory to manage than ever before. Carly loves to help people. She is happy to help with any organising issues but relishes a toy room makeover, wardrobe re-organise or pantry refresh.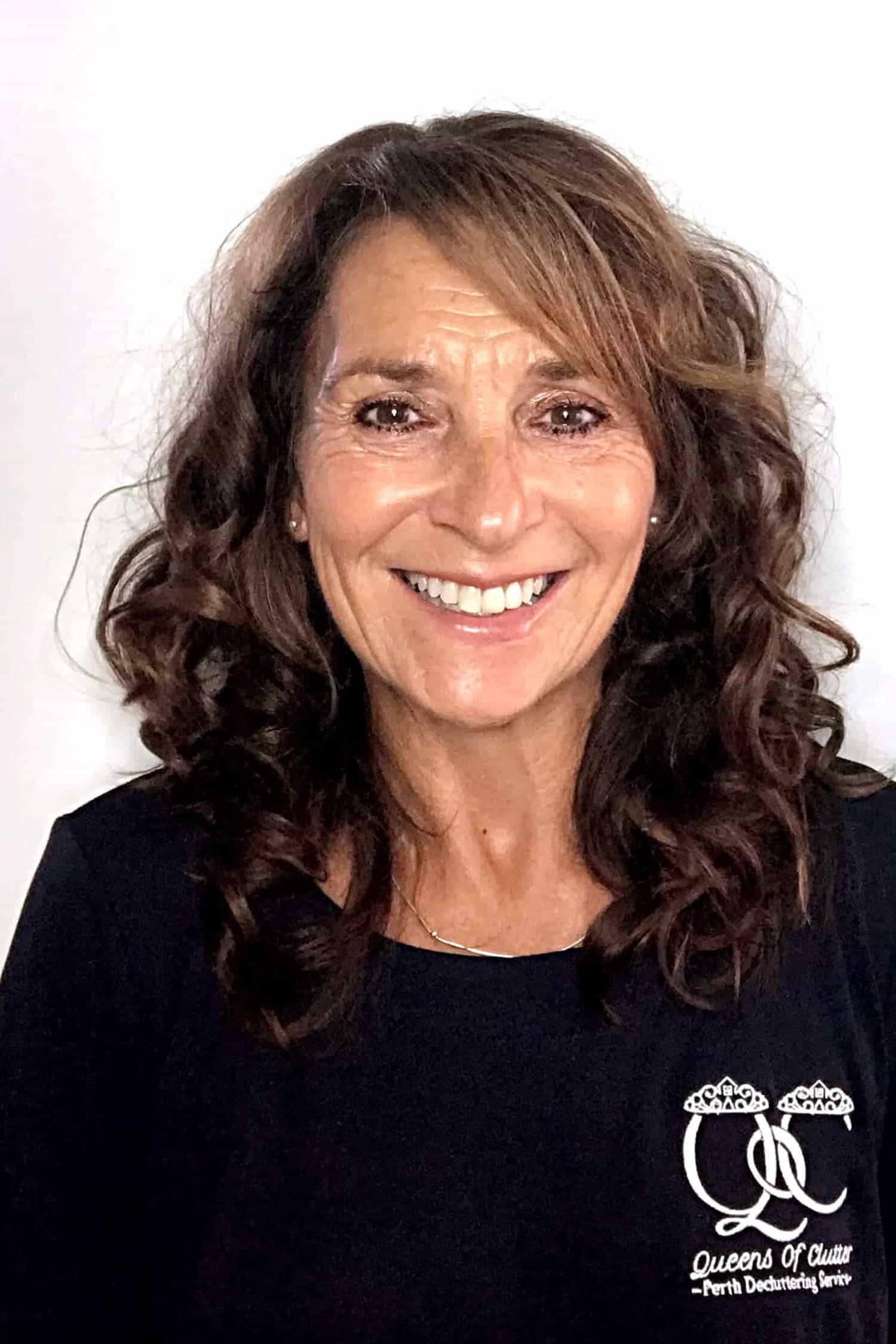 Katrina
Professional Organiser
Katrina is a Nan to 4 beautiful grandchildren. She likes to keep active and fit. She's from Devon in the UK, and has been in Perth for 10 years. She has travelled a lot and has done voluteer work in Africa. Katrina has worked as a Registered Nurse for Learning Disabilities, and in the care field for 42 years. Katrina is excited about helping people with organising their homes.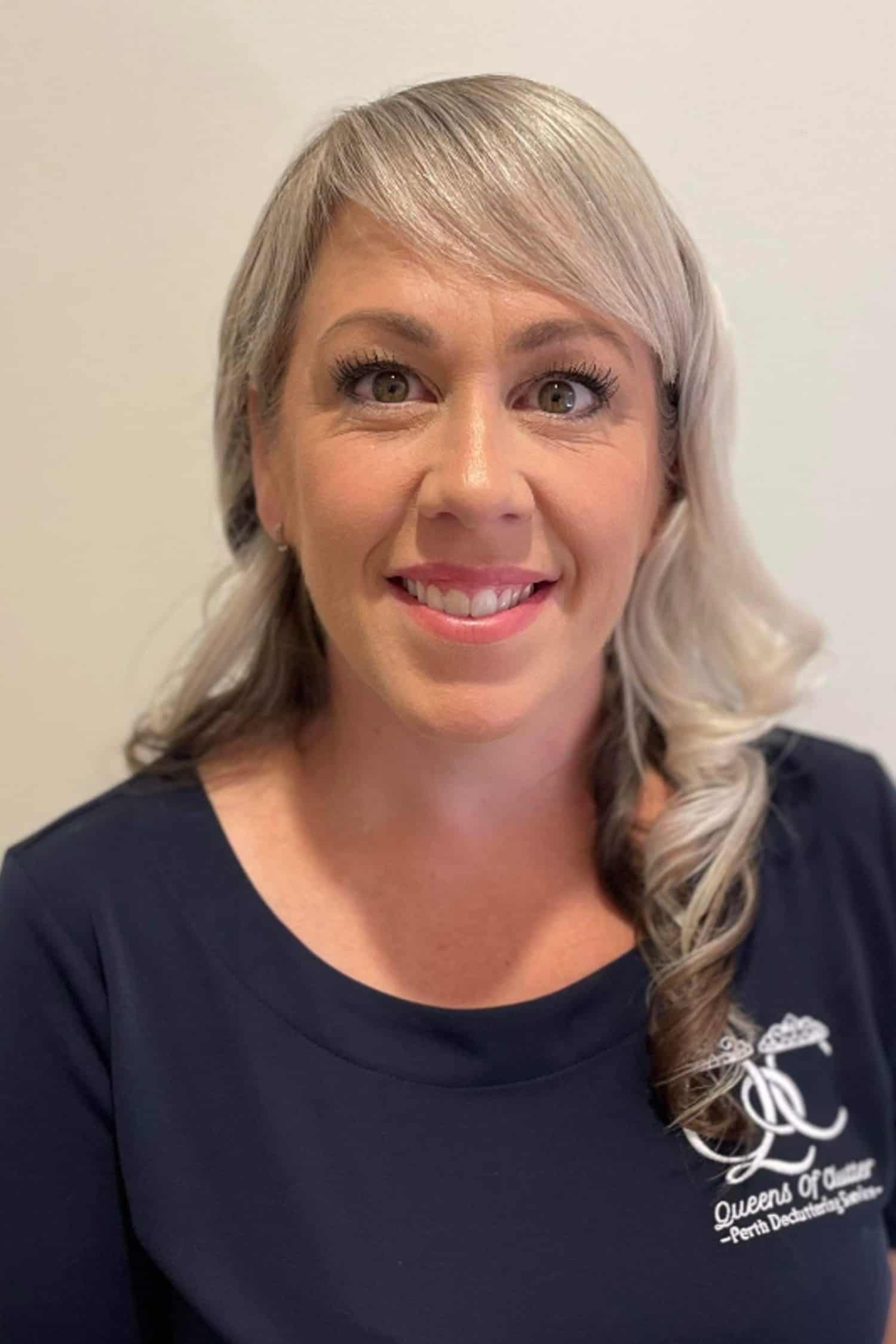 Sam
Professional Organiser
Sam is a mum of 2 beautiful and very energetic young boys, and a very fluffy golden retriever named Willow. She spends most of her weekends out and about with her husband, coaching and umpiring all of the boys sports. She loves a good list and getting things organised- especially a great party, with delicious food and a few cheeky beverages! She loves helping people, especially those who are overwhelmed and don't know where to start, and loves seeing the relief people have when progress is made. Clutter and 'stuff' appear before we know it in our home, and she's happy to help sort and organise it.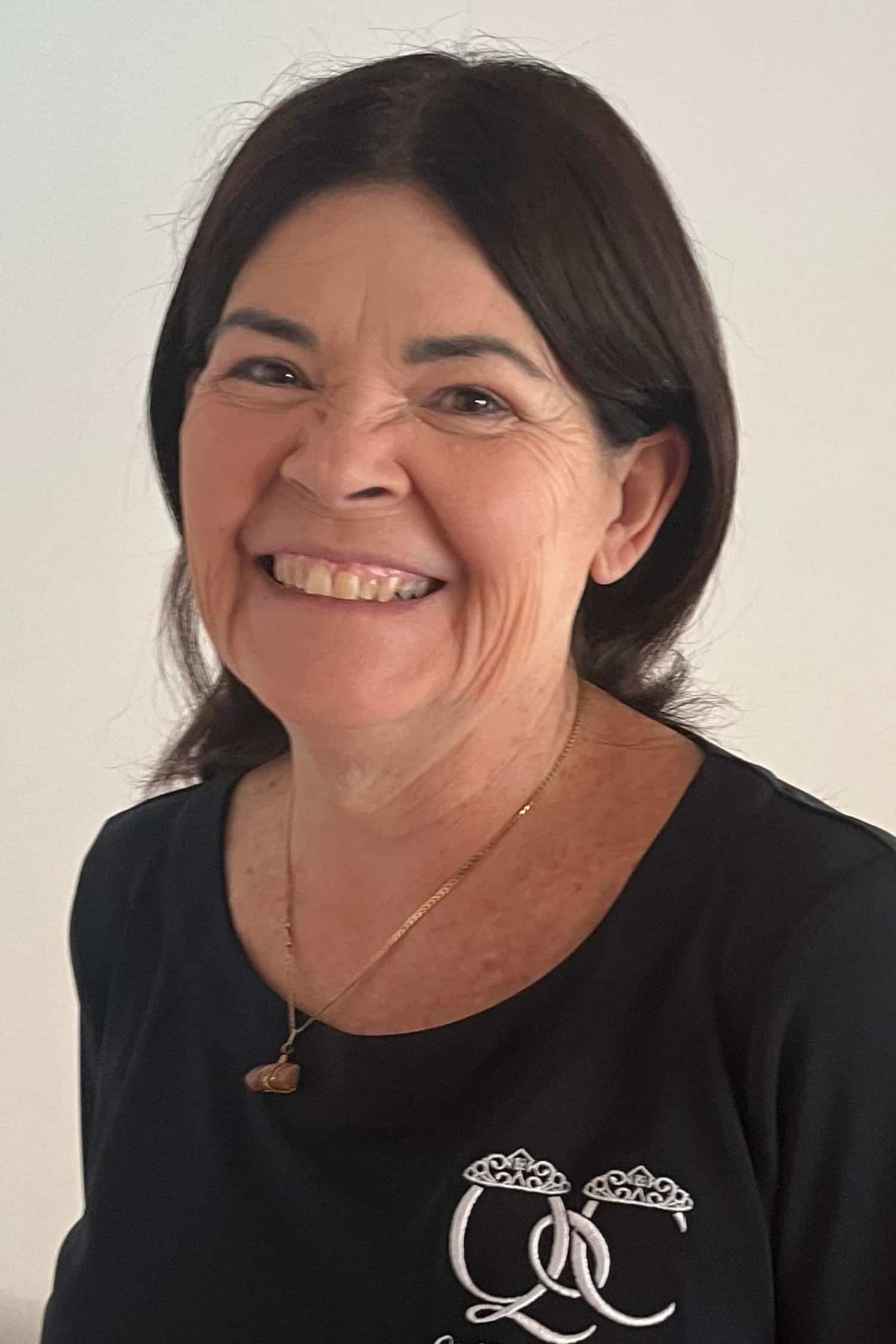 Raelene
Professional Organiser
Raelene is a mum of three, nana of five. When she's not working she loves having her grandkids stay over. If she's not doing that, you will find her out riding her motorbike. Her favourite holiday destination is Bali. In this job every day is different which keeps you on your toes. You never know what treasures you will unearth!!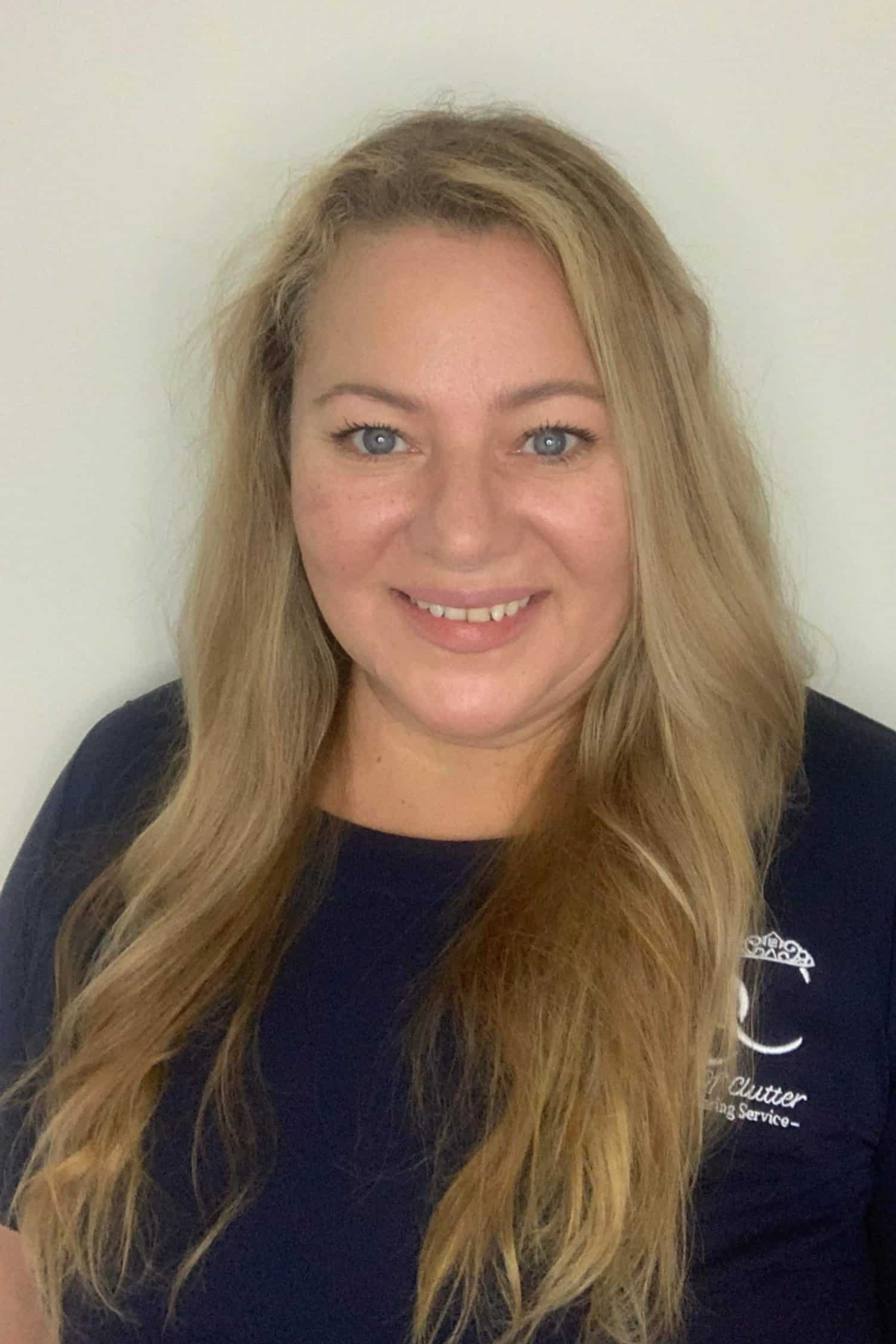 Joy
Professional Organiser
Joy is a north of the river team member who moved to Perth from Queensland. She and her partner are building a home where she will be able to display her love of interior design. After a 30-year career in hairdressing, Joy decided it was time to follow her passion and help clients create functional spaces that they love.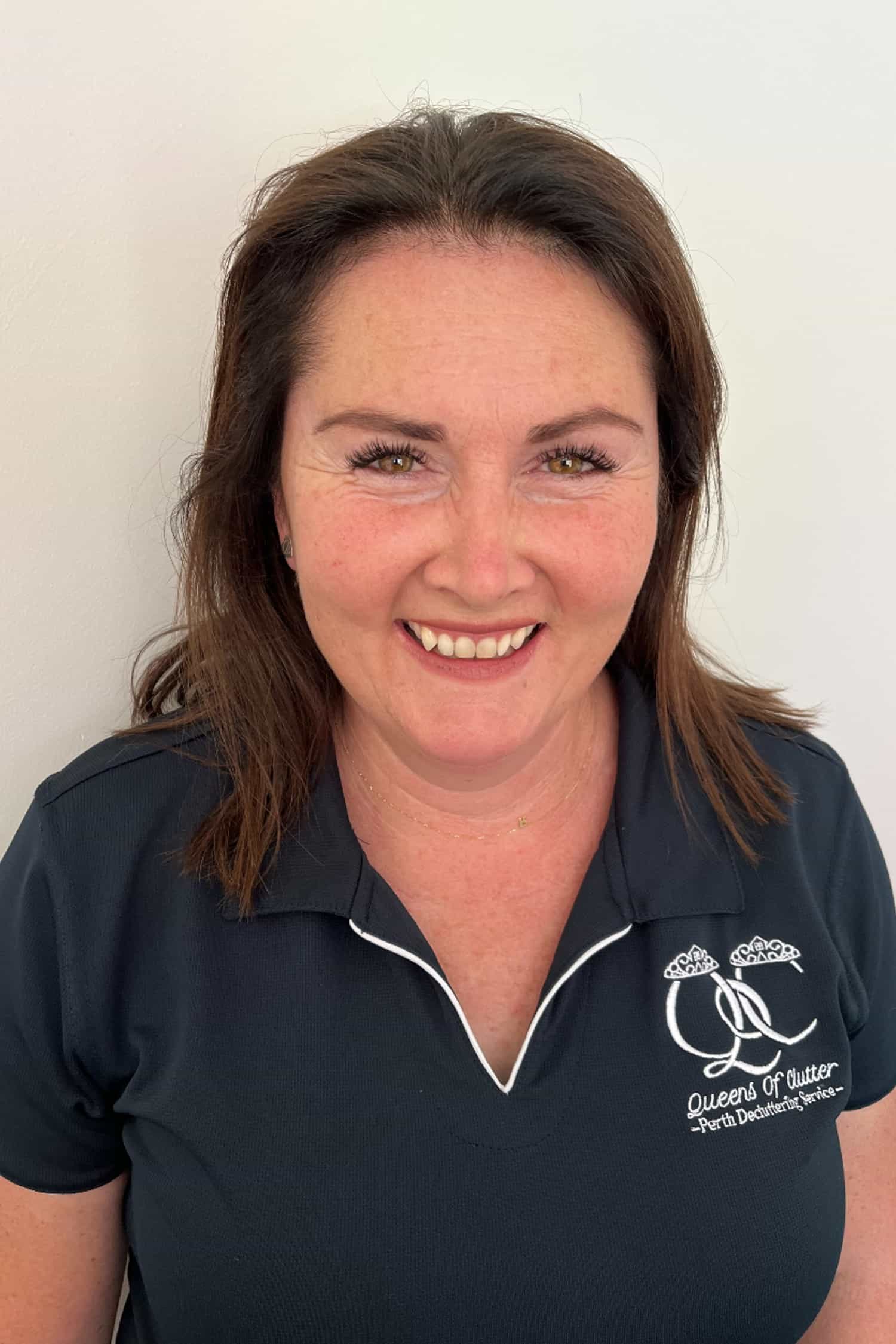 Renee
Professional Organiser
Renee is a mum of 2. She was born and bred in Tasmania and moved to Perth when she was 21 years old. She has a background in beauty therapy and retail work but has a passion for decluttering and organising after always trying to organise her own house and the kid's belongings. She loves to be around people, helping them reach their goals and has previous experience working with NDIS clients. She loves to keep active with exercise, enjoying family and friends company, especially caravanning with friends.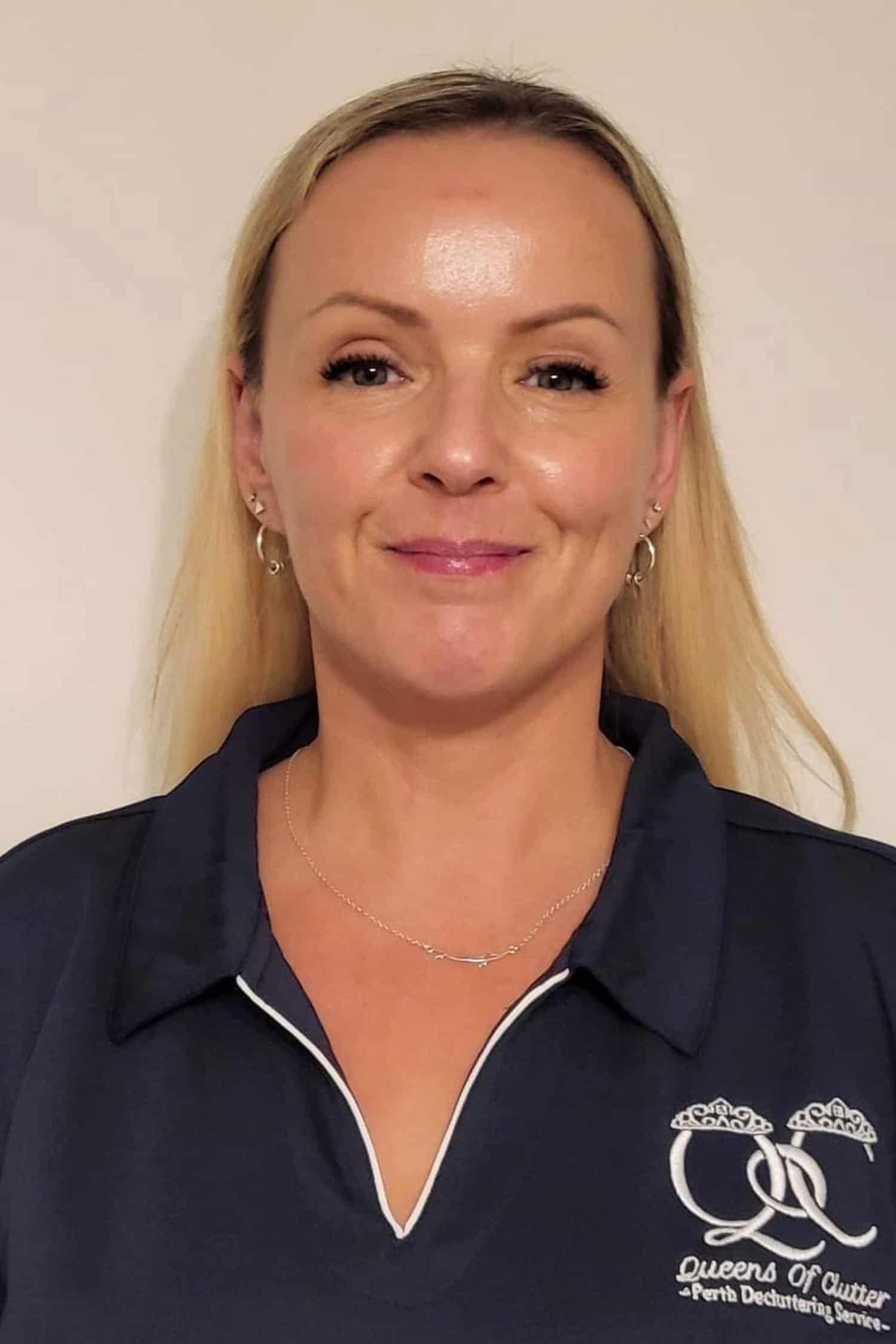 Nicola
Professional Organiser
Nicola moved to Perth from Wales, UK, 2 years ago and is loving the Aussie lifestyle. Mother of 2 kids and a fiesty pomeranian she enjoys the the great Aussie outdoor life with her family, bbqs paddleboarding, beach, hiking, the lot! Previously Nicola worked in marketing and as a side hustle ran an antique restoration and sales business.This sparked a love of organising belongings and helping people to be happy in their homes.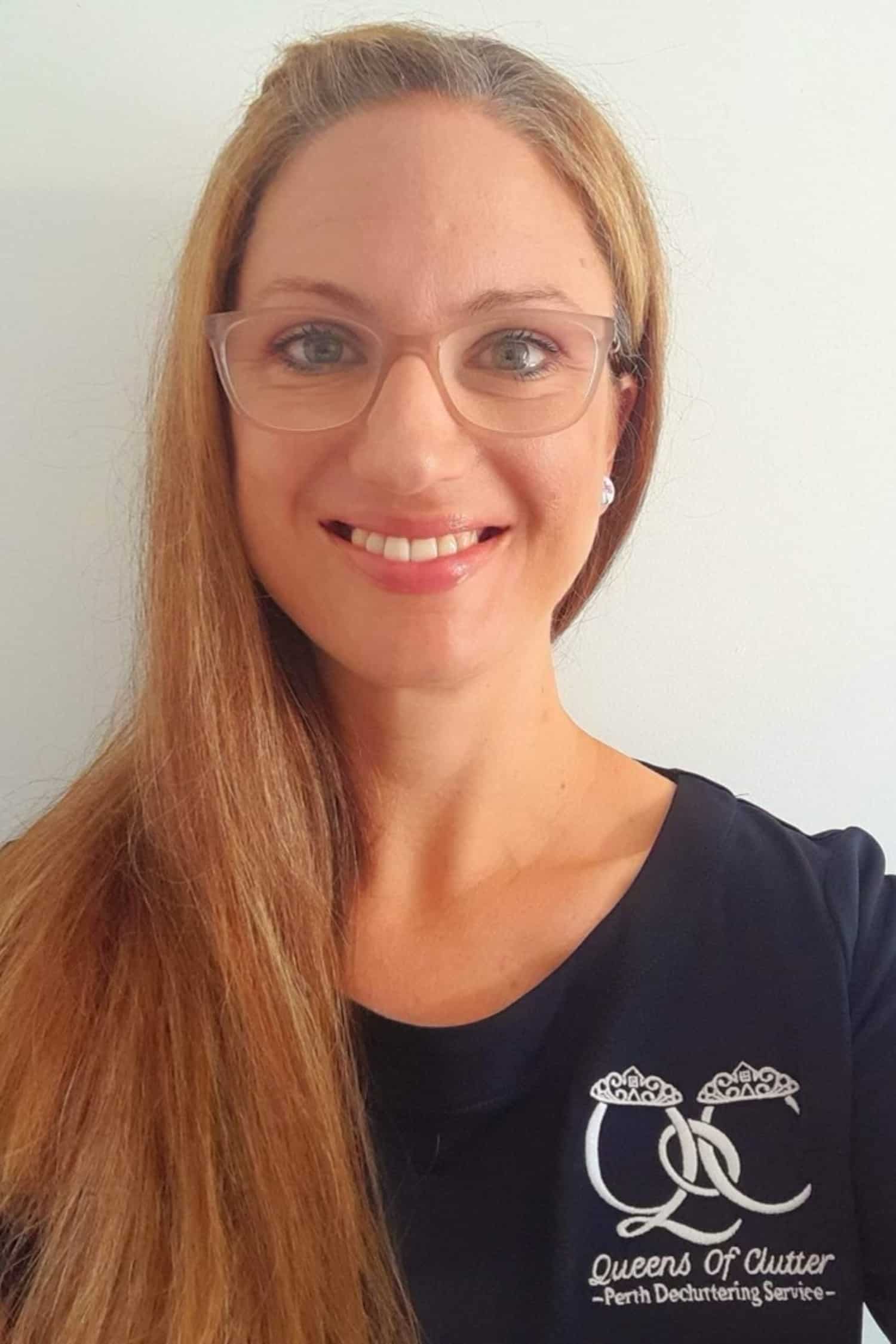 Jodie
Professional Organiser
Jodie has called Baldivis home for over 12 years and is also very familiar with surrounding areas, as well as the Peel region. She has worked in various roles, most recently as a Community Support Worker. Jodie is a gentle soul who loves to listen and connect with her clients. She loves working with those who feel completely overwhelmed, and finds it incredibly rewarding when she sees the relief and transformation that her work gives them. In her spare time, Jodie enjoys gatherings and camping with family and friends, all things gardening, baking and photography. She believes that organisation, being present with her 2 children, and living a laid back lifestyle creates harmony and happiness in their home.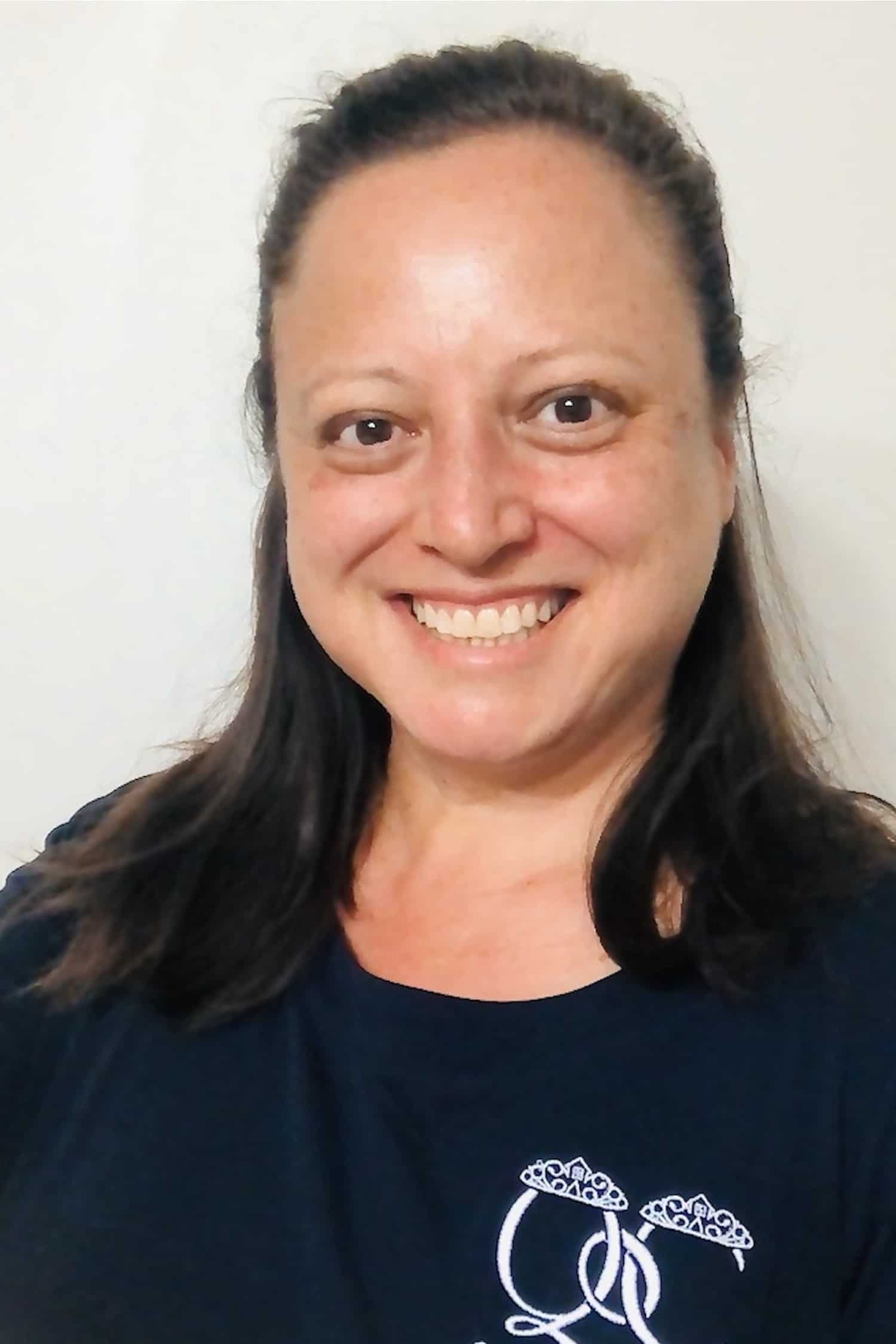 Jane
Professional Organiser
Jane declared she was going to be an Actor to her Mum at age 4 (with hands defiantly on her hips)! She trained to be in front of, and behind the camera, and has worked in Sydney, London and LA over the last 20 years. In 2020 she returned home to care for her Mum and is loving being back after so many years away. Once a Sandgroper, always a Sandgroper! Known for giving awesome hugs, being super organised, a total dag, putting the kettle on (lots), and for winning a Finley Award as the arse-end of a tap-dancing Panto horse. Her passion for organising (and clients pets) is second to none.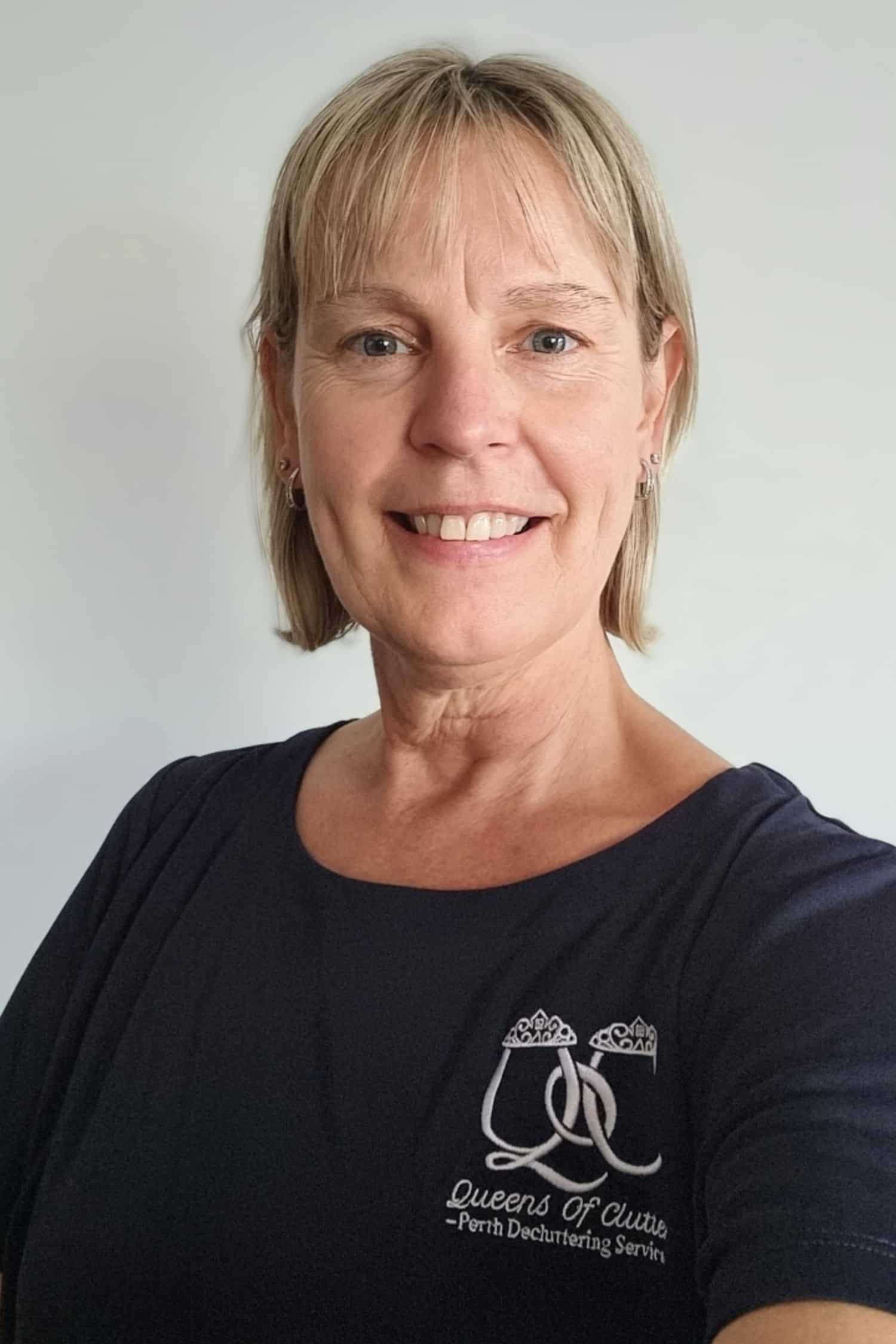 Jill
Professional Organiser
Jill has lived in Australia for 22 years after coming over on holiday from England and never going back. She has given up a full time career in medical imaging and is now happily taking on a new role helping others to get organised and declutter. Jill enjoys going on holiday and will try to do that as much as possible. She also enjoys a beer down the pub on the weekends, sci fi movies and is an avid reader. Can get very distracted by books!
Need to know more about our services?
Ready to start your decluttering?
Make a booking with us today